24th - 26th June 2022 as of 6 pm
Champagne menu
Dry Aged beef fillet tartare, foie gras
marinated foie gras, brioche, blackberry

Scallop, kalamansi, yoghurt
smoked scallops, pepper and zucchini salad, kalamansi gel
Meagerfish
pearl barley, tarragon

Loin of veal
sweet potato, raspberry vanilla gel, grilled green asparagus
Currant and Nut Cake
hibiscus gel, currant hibiscus sorbet
3 course menu € 90
Incl. champagne pairing* and water € 149
4 course menu € 100
Incl. champagne pairing* and water € 179
5 course menu € 120
Incl. champagne pairing* and water € 199
* 1 glass (0,1 cl) each course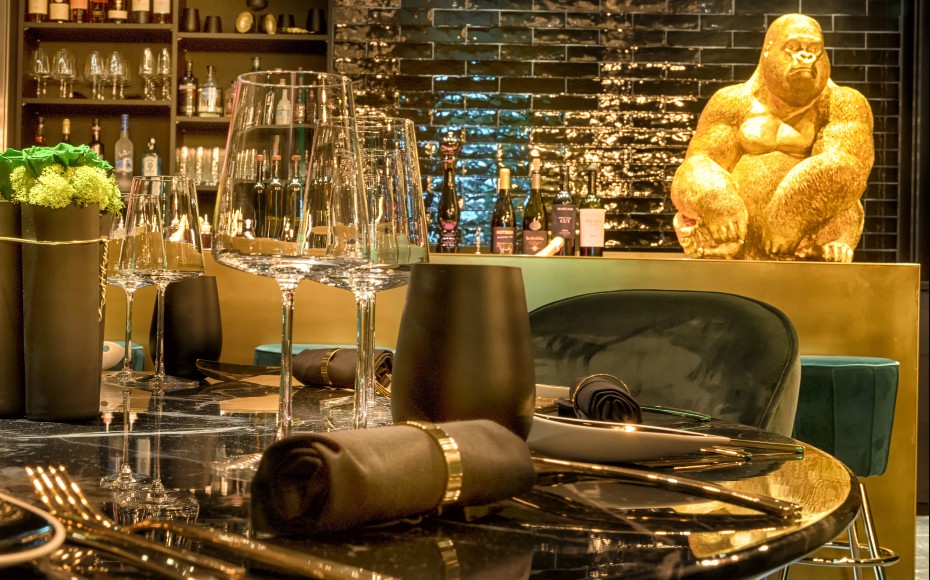 Blog Hotel Palace Berlin
Berlin in June
World Gin Day » | Saturday, June 11, 2022
Gin Day takes place every year on the second Saturday in June. Specifically, this event dates back to 2009 and the Scotsman Neil Houston, who together with friends created this day of honor for juniper schnapps in order to create a (worldwide) reason to celebrate one's own drinking habits or preference for gin.
Celebrate "World Gin Day" with us at the House of Gin on June 11th and look forward to a special drinks menu.
Global Wellness Day » | June 11, 2022
Every second Saturday in June, the GLOBAL WELLNESS DAY takes place on all five continents. The aim of the Global Wellness Day is to bring wellness as a philosophy of life and lifestyle closer to as many people as possible. Because wellness is much more than massages, cosmetics and being pampered. If you live wellness yourself, you can enjoy life more, develop for the better and really flourish as a result.
Celebrate the Global Wellness Day with us: From June 11th to 12th. benefit from 2 for 1 spa day tickets in our online shop, which can be flexibly redeemed with us over the next 12 months.
Berlin Triathlon » | Saturday, June 12, 2022
The 16th Berlin Triathlon will take place in June 2022 with a start at the Island of Youth in Treptower Park in Berlin. In addition to the classic Olympic distance and the sprint distance, the Berlin Triathlon 2022 will also feature a children's triathlon and a super sprint distance. The race is open to women, men and mixed relay teams. The more than 1700 registered athletes can expect catering stations during the race and at the finish, award ceremonies, medals and gifts at the finish, as well as hot showers and a massage service.
Special Olympics: National Games 2022 » | June 19-24, 2022
The Special Olympics for athletes with mental or multiple disabilities will already take place in the German capital in June 2022. The winners will qualify for the 2023 World Games in Berlin. Under the motto "Unbeatable Together", around 5,000 athletes will compete for the gold medal in Berlin. The Special Olympics National Summer Games take place every four years. In 2022, the stakes are high for all participants: The best athletes can qualify for the Special Olympics World Games 2023, which will also be held in Berlin.
Fête de la Musique » | June 21, 2022
Berliners celebrate the beginning of summer with an open-air music festival, the Fête de la Musique. Every year on the 21st of June, musicians and bands play live music in the streets of Berlin for free.
ILA Berlin » | June 22-26, 2022
With its high-quality conference program and spectacular air shows, the ILA Berlin is a must for professionals of the aerospace industry and aviation fans. The ILA Berlin is one of the largest trade exhibitions for the aerospace industry in the world. It includes conferences, business meetings and workshops that are open to trade visitors only. An extensive static aircraft display and the air shows on Saturday are open to the public. There are over 1000 exhibitors at each ILA, which attracts up to 200,000 visitors.
DJ Line Up @ House of Gin
June
03.06. – Chez Per Crew mit Jim
04.06. – Isa Wolff
10.06. – Jan Pyroman
11.06. – DJ Whity
17.06. – Beryll
18.06. – tbd
24.06. – Alonso
25.06 – Sunrise_Groove (NEU)
May 2022
6.5. – Max Hermann
7.5. – DJ Sonar
13.5. – Beryll
14.5. – Isa Wolff
20.5. – Chez Per Crew mit Nico
21.5. – Nikklaas
27.5. – wannadosomething?
28.5. – Fixie
April 2022
1.4. Alonso
2.4. DJ Valis
8.4. Nikklaas
9.4. DJ Whity
15.4. Nikola
16.4. Figu Ds
22.4. wannadosomething? aka Gesine Kühne & Jakob Mandler
23.4. Isa Wolff
29.4. Chez Per Crew mit Jim
30.4. Fixie
March 2022
4.3. Jan Pyroman
5.3. Fixie
11.3. Chez Per Crew mit Jim
12.3. Isa Wolff
18.3. Beryll
19.3. Elisa
25.3. Sonar
26.3. wannadosomething?
February 2022
4.2. DJ Whity
5.2. Thomas Haak
11.2. Elisa Elisa
12.2. Isa Wolff
18.2. Fixie (New Entry)
19.2. wannadosomething?
25.2. Beryll
26.2. Chez Per Crew mit Nico

January 2022
29.01. Elisa Elisa
28.01. Alonso
22.01. Isa Wolff
21.01. DJ Sonar
15.01. Micropacer
14.01. Beryll
08.01. wannadosomething?
07.01. Chez Per Crew mit Jim
01.01. Mijk van Dijk

December 2021
18.12. Henrik Suttinger
17.12. Alonso
11.12. Swiperight (Chez Per Crew)
10.12. My Secret Playground
04.12. wannadosomething? Gesine & Jakob
03.12. Chez Per Crew mit Jim & Nick

November 2021
05.11. Thomas Haak
06.11. Che Per Crew mit Jim und Nick
12.11. Micropacer
13.11. wannadosomething?
19.11. Swiperight mit Nico und Pierre von der Che Per Crew
20.11. Elisa Elisa
26.11. DJ Sonar
27.11. Isa Wolff
Berlin in May
Museum Sunday | 1st May
Museum Sunday is an opportunity for Berlin's museums to get even more people interested in the city's diverse cultural offerings. Everyone is warmly invited to embark on a voyage of discovery with their friends and families. All are welcome.
E-commerce Expo Berlin 2022 | 5th May
The E-commerce Berlin Expo is the largest "pure play" e-commerce event in the (technology) capital of Germany. The E-commerce Expo Berlin creates entrepreneurial opportunities for the entire e-commerce ecosystem: from merchants to platforms, hosting providers, logistics service providers, to payment processors and other providers of online solutions.
Mother's Day | 8th May
Show your mum that she is special and thank her for all the hard work it took in raising you with an exquisite gift from our voucher shop. Why not treat your mother something unique, such as a gin tasting or a day ticket at our Palace Spa & Fitness Berlin? She deserves it!
World Cocktail Day | 13th May
World Cocktail Day is celebrated on May 13th every year. The holiday is based on a historical date: on May 13, 1806, the definition of a cocktail was published for the first time. Come by the House of Gin and toast the World Cocktail Day with delicious gin cocktails.
2022 Berlin E-Prix | 14th + 15th May
The ABB FIA Formula E World Championship is back in Berlin. 22 drivers will compete against each other in their racing cars at the disused Tempelhof Airport in the heart of the capital. With two crucial rounds on May 14th and 15th, the city will no doubt once again prove itself to be the 'Key City' as drivers and teams try to make the difference in the battle for the World Championship.
International Museum Day | 15th May
The International Museum Day will take place for the 45th time in 2022. It is proclaimed annually by the International Museum Council ICOM and celebrated on a Sunday in Germany. The aim of Museum Day is to draw attention to museums in Germany and around the world and to invite visitors to discover the diversity of museums.
International Day Against Homophobia and Transphobia | 17th May
The International Day Against Homophobia and Transphobia is a rallying event offering an opportunity for people to get together and reach out to one another. The date of 17 May was specifically chosen to commemorate the World Health Organization's decision in 1990 to declassify homosexuality as a mental disorder.
Wine & Dine with Casa de Uco | 19th May
Experience a unique wine tasting with winemaker Casa de Uco from Argentina. Including a 4 course menu from our sous chef Nico Schwirz, amouse and a bottle of water (0,7l). Price incl. menu, accompanying wine and water €119 p.p.
Binding reservation by email to culinary@palace.de
DFB-Pokal Final 2022 | 21st May
On May 21st, 2022, 8:00 pm, the DFB-Pokal final will take place at Olympiastadion Berlin. The DFB Cup winner qualifies for the UEFA Europa League.
Father's Day / Ascension Day | 16th May
Ascension Day is celebrated on the 40th day of the Easter festival cycle, i.e. 39 days after Easter Sunday. That is why the festival always falls on a Thursday. This year, Ascension Day - a public holiday in Germany - falls on May 26, 2022. Ascension Day is also taken as an opportunity to initiate boys and younger men into the customs and bad habits of masculinity at a so-called "Men's Day Party".
Berlin in April
Museum Sunday on 3rd April
Museum Sunday is an opportunity for Berlin's museums to get even more people interested in the city's diverse cultural offerings. Everyone is warmly invited to embark on a voyage of discovery with their friends and families. All are welcome.
Berlin Half Marathon on 3rd April
The Berlin Half Marathon is not only the largest German run of its kind, but also the most prestigious. It is now part of the permanent repertoire of Berlin running events and attracts international runners. The special thing about the half marathon and the big Berlin marathon in September is the mixture: professional athletes run with recreational athletes and the enthusiastic spectators turn the running competitions into a sports festival with their entertainment program.
"Wine & Dine" with Lange Twins Wein | Thursday, April 7th at 7 p.m.
Experience a unique wine tasting with winemaker Joe Lange from California in our restaurant beef 45.
Easter special at the House of Gin | 14th-18th April
We have created special cocktails for you in the House of Gin » that will sweeten your Easter holidays with your loved ones. Take a look at our special menu ».
Easter special at beef 45 | 15th-17th April
On the Easter holidays we spoil our guests at restaurant beef 45 » with a special menu ». From April 15th to 17th, enjoy our Easter 3-course menu including an aperitif cocktail and water for 72,50 € per person. Book your table via email at culinary@palace.de.
Dance into May | April, 30th
Street festivals, parties and concerts. May Day in Berlin is an exciting day. The center of the celebrations around the "Day of Work" is Kreuzberg with the Myfest, but this day is also celebrated city-wide with events for the whole family, because there is plenty to celebrate in normal times. In 2022, May 1st falls on a Sunday.