Welcome to the Palace Spa & Fitness Berlin
Pure relaxation for body, mind and soul.
Our 800 square meter spa offers you a swimming pool and whirlpool, ladie's and Finnish as well as dry and wet sauna, ice grotto, tepidarium, a relaxation room, supplemented by a variety of massage offers. Those who prefer to exhaust themselves benefit from our fitness area with the latest equipment from Technogym, including their high-quality Kinesis devices. To top it off, treat yourself to delicious, healthy refreshments and meals at the pool bar.
The swimming pool and the refreshing whirlpool are available free of charge for hotel guests, just the sauna for 15 € per person.
Please note: Since July 2015, sauna treatments have been taxed at the general tax rate of 19%, use of the pool and fitness area at 7%. This also applies to spa areas in hotels. The legislator assumes that every spa visitor also uses the sauna and therefore both services would have to be shown with the respective tax rate for each overnight stay. In order to avoid a corresponding adjustment of the room rates, we have decided to invoice the use of the sauna separately. A "free use" of the sauna for hotel guests is therefore unfortunately not possible. The energy costs, which have been rising for years, have also prompted us to invoice the use of the sauna individually, so as not to increase the overnight rates for all hotel guests. Thank you for your understanding.
Become a member and benefit from many advantages. We offer you two options:
Membership for 6 months
125.00 euros per month, with accompaniment 215.00 euros per month
Parking¹
Bathrobe, slippers and care products
Bath towels²
Closet³
1 pot of tea per stay
15% discount on massages
25% discount on food and drinks in the SPA area
15% discount on food and drinks in the Hotel Palace Berlin (with the exception of the Beef Restaurant)
Voucher for 1 night in a double room including breakfast
¹ during the stay in the SPA area, the key must be deposited with the car master
² maximum of 2 sauna towels and 1 small bath towel
³ During the stay in the SPA area, no entitlement to a personal cupboard or storage of personal belongings
Membership for 12 months
115.00 euros per month, with accompaniment 205.00 euros per month
Parking¹
Bathrobe, slippers and care products
Bath towels²
Closet³
1 pot of tea per stay
15% discount on massages
25% discount on food and drinks in the SPA area
15% discount on food and drinks in the Hotel Palace Berlin (with the exception of the Beef Restaurant)
Voucher for 2 nights in a double room including breakfast
¹ during the stay in the SPA area, the key must be deposited with the car master
² maximum of 2 sauna towels and 1 small bath towel
³ During the stay in the SPA area, no entitlement to a personal cupboard or storage of personal belongings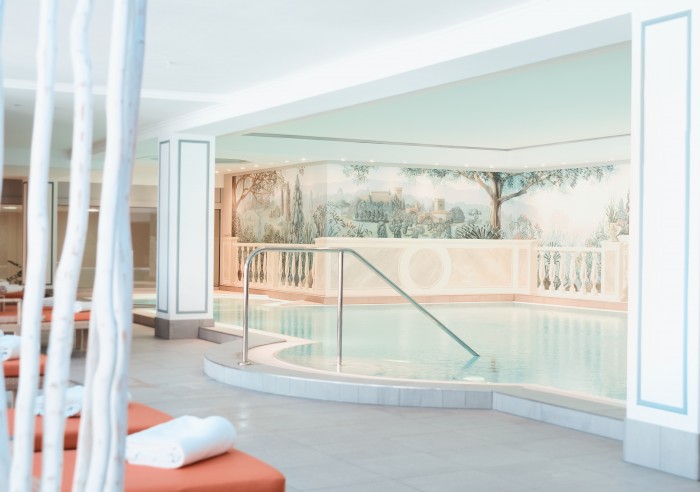 Our offers without contractual obligations
Slimcard for 3 hours: 29.00 euros
Day ticket: 34.00 euros
10-visit card: 216.00 euros / with companion 299.00 euros
20 tickets: 380.00 euros / with companion: 521.00 euros
Monthly ticket: 155.00 euros / with companion: 245.00 euros
Opening hours & contact
Spa
Monday – Saturday: 6:30 am – 10 pm
Sunday & bank holiday: 8 am – 10 am
Please note:
The women's sauna functions as a mixed sauna from 6.30 a.m. to 4.30 p.m. and as a women-only sauna again from 4.30 p.m.
Mixed sauna: as of 4.30 p.m
Tepidarium: as of 4.30 p.m
Tel. +49 30 2502 1070
pool@palace.de